The nesting continues. But only 5 weeks left!!!
Just a month ago, our kitchen/dining room looked like this...
It's coming together, people!!!
Andy tiled the upstairs bathroom! (His first attempt at tile. Of course, this is probably the hardest. But, he did such a fantastic job!)
Andy and Marty primed the walls!
Our kitchen cabinets arrived! (To be installed next week)
Kitchen sub-floor repaired, ready for tile! (Sometime this week)
I moved around some more of the landscaping, relocating the hosta and mysterious flowers that popped up around the blueberry and raspberry bushes I planted.
We discovered a peach tree, with peaches growing, in our yard!
[True Story: Andy and the boys bought me a peach tree years ago for Mother's Day. The first year we picked off the peaches to strengthen the tree. The next year there were 2 good peaches. The third year was full of peaches, but our house sold and we moved just as they were ripening. Andy talked me out of uprooting that tree and taking it with us. It was very special to me. But finding this peach tree already here for us, with peaches ripening just about the time we'll be moving in is
just like God winked at me
. It was unnecessary, but so incredibly cool to see!]
My favorite project of the week was a quick trip to Ikea with my love.
We left early in the morning and were home before T-Ball.
We were on a hunt for curtains.
But, we took full-advantage of the drive to and from Chicago, date in the car,
wind in our hairs, smiles as wide as can be, just bein' together.
For the living room curtains, I saw these on Anthropology...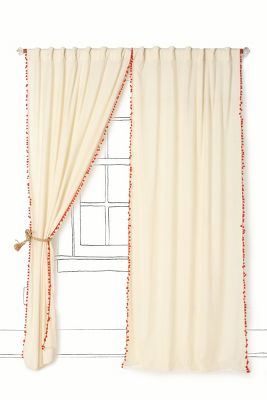 I was smitten. [with the curtain, not the price]
I can't wait to share pics when they're done!